Tejas Sponsors Mahima 2021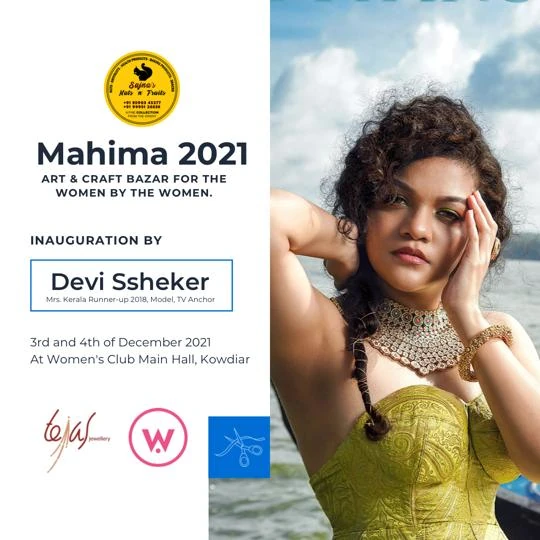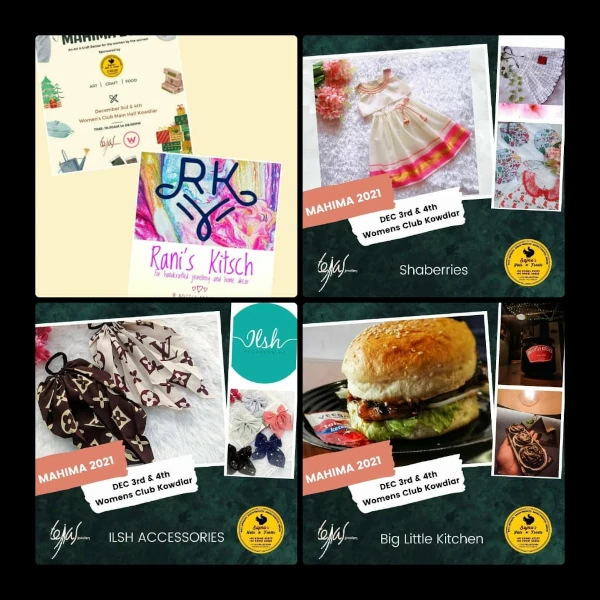 Tejas has been always focused on bringing a curated collection of ethnic, Indian to the fashion-conscious women of Trivandrum. Since we started in 2008, our customers have enjoyed the various collections ranging from Kolhpuri to Dhokra and from temple jewelry to the trendy designs.
Tejas was the pioneer to start selling terracotta jewelry in Trivandrum. Somewhere along the line, as part of the focus on empowering women and other entrepreneurs, Tejas started conducting classes in jewelry making These include terracotta jewelry, fashion, thread, and beads. The classes were conducting during times when homemakers could make time available, and this resulted in a a lot of women joining to pursue a new hobby. The initial small group over the years grew in numbers. Soon we realized that the jewelry created by such hobbyists and entrepreneurs needed an outlet to publicize and monetize their creations.
Tejas decided to take the lead in creating a platform that would allow the entrepreneurs and designers to showcase their creations. Our first attempt was to host an informal exhibition to our customers in the tiny little space within the Tejas shop. We had only two or three artisans selling jewelry made by them. This was the seed for the current day Mahima. The first edition of Mahima was in 2016 with 5 designers participating and was held in a small hall hired at the Women's club. The success encouraged us to make a Mahima a regular annual event to be held on the first Friday/ Saturday in December.
Mahima has enabled several women designers and entrepreneurs who were struggling to launch themselves. First time entrepreneurs struggle with limited resources and limited knowledge and expensive advertising is out of reach for most of them. Tejas consciously identifies such entrepreneurs and provides them a launch pad through Mahima. Tejas takes the responsibility of orchestrating the event, managing the promotion on social media and offers the platform at a very nominal price. This activity is a non-profit activity and is done as part of Tejas's social responsibility.
Early December is the perfect time for customers to come in and shop for their Christmas needs.
2020 brought on us a completely different environment with the pandemic raging. Holding a in-person event was out of question due to safety and regulations imposed on holding events. So, we sought the help of a local group called the Trivandrum flea market group in Facebook. The awesome admin. Of the group Mamtha Pillai helped us to plan and execute a completely online event. We had about 26 vendors using lives shows to showcase their products online for two days.
Mahima 2020 was a real eye opener in terms of learning and leveraging digital technology to promote using online channels.
This year we have 26 entrepreneurs showcasing and we have taken a bigger hall to accommodate the larger numbers. Entrepreneurs are doing to display their creative designs in clothing, hand stitched Kurtis, designer frocks, hand- made home linen, table runners especially with the Christmas theme, home decor, plants for indoor and outdoor needs jewelry designed by various vendors, which includes handmade jewelry, resin jewelry and polymer clay jewelry. There is a special section allotted to the chefs and bakers to present their creations such as cupcakes, pickle, squashes, juices all made at home. This year's event is co-sponsored by Sajna Noufal Ali of NutsnFruits. whatsaroundthiruvananthapuram is the online partner and does vendor management for the event
This year's event will be inaugurated by the Devi S Sheker. A multi-faceted personality Ms. Sheker is the   Mrs. Kerala 2018 runner up, a baker and an IT professional as well. The inauguration is at 11 am on Dec. 3. for third December at 11 am.
This year Tejas is proud to recognize and award a small token of our love and appreciation to a woman who achieved a record-breaking feat. Sajna Vinish completed a 42 hr Carnatic Vocal  Marathon on January 22nd 2019  at Soorya Ganesham as part of the concluding stretch of the 111 day long Soorya Festival held at Trivandrum.
 Ms. Sajna Vinish will be the guest of honor at our Mahima inauguration ceremony and acknowledged on stage on December 3 for her extraordinary achievement as a Carnatic musician.